Manu and Wai Learning Areas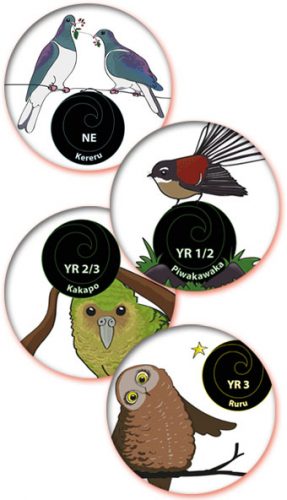 The Manu and Wai team consists of our New Entrant to Year 3 students. It is the area of the school where our students are introduced to learning, understand that Jireh is their turangawaewae (place to stand) and that they are competent learners. We work with students in a relationship of 'ako' (reciprocity) to help each child achieve their God-given potential. All our teaching is underpinned with a Biblical worldview which perceives each student as a taonga (treasure). The first 1000 days of school are the most important in developing self-efficacy, work ethic and confidence. These years lay the foundation on which all other learning is built. Our students learn the fundamental literacy and numeracy skills required to access the broader curriculum in later years together with the skills required to be learning continually in the 21st Century. Akonga are supported to know how to learn, where they are in their learning and their next steps. Students are learning the importance of collaboration and cooperation, through exciting initiatives in Sport, Technology and Inquiry based learning. Experienced, passionate teachers with high expectations for student achievements allow students to develop in a safe and nurturing environment while celebrating their own unique learning styles and giftings. Learning occurs in many settings in and outside the school gates with many fun learning opportunities provided on excursions and Education Outside the Classroom. We believe that whanau and community are part of the learning circle and encourage parent participation and input into trips and in-class programmes. In the Manu and Wai teams our students grow mentally, emotionally, physically, spiritually and academically each day. We love to watch them learn to fly!
Ika Learning Area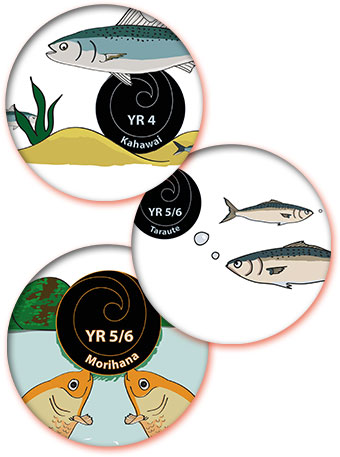 IKA is made up of Year 4-6 students in two classes. IKA students are encouraged to discover, experience and practice 21st century skills in their learning. As independent students and children of God, IKA students will be nurtured in their thinking and encouraged to use their God given gifts to bless their peers. Their attitudes and character will be moulded to reflect Christ like attributes. High expectations are set and students are challenged to strive for excellence. IKA students will take responsibility and ownership for their learning. An inquiry approach is taken through the GROW model where students investigate real life problems and look for solutions. IKA students participate in a variety of learning experiences, sharing their unique culture with others during our school cultural week. We offer a wide range of Sporting experiences and work alongside passionate and skilful coaches. Our students are learning to understand and use digital technologies to create and use in innovative ways. Creativity is encouraged in a variety of learning experiences. Independence is strongly encouraged. Student have the opportunity to lead devotional lessons and share their learning by using a range of technologies. Students enjoy getting out and about enriching their learning, outside of the classroom. Ms Tato Leader of the Ika Learning Area
Tīwai Learning Area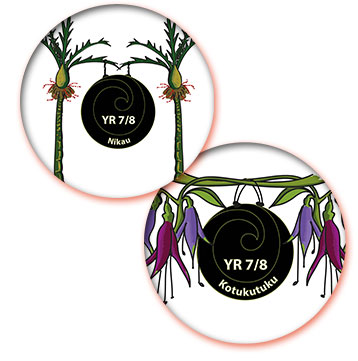 At Jireh Christian School, we believe we are made in the image of God (Gen. 1:27) so that we can be reflectors of God in this world. While this is true for all humanity, it needs to be especially true for those of us who are called children of GOD, and particularly true for the students in our care who are entering the Year 7 and 8 level of their education. This is a unique age and phase of life; a time when the young people in this category are moving from a faith grounded in Mum and Dad's beliefs to a faith they own and live for themselves. Many of our students will have heard from a young age that they are special and made in the image of GOD. But now they are beginning to ponder what that actually looks like when it's expressed by an 11-13 year old. They stand on the edge of some of the biggest transitions that they will have experienced in their life thus far:
Childhood to adolescence
Parents' faith to own faith
Dependence to independence – in choices and thinking
Acceptance of what is true to questioning it and testing it
Uncomplicated relating with peers to acknowledgement/awareness of "other"
Acceptance of themselves to a huge need for acceptance from peers
Enjoyment of "all" people to seeking out significant adult role models
The Tīwai Learning Area provides challenge, nurture, friendship, opportunities for servant leadership and, of course, fantastic learning experiences – inside and outside the classroom. While we take great joy in making the core curriculum areas of Mathematics, Reading and Writing as meaningful and challenging as possible, we also love exploring God's world through Science, Social Science, Music, Art and Technology. We stretch ourselves by learning Te Reo and Mandarin. We also immerse ourselves in physical activity such as sports of all kinds and EOTC activities like snorkelling, kayaking and camping. Some of us are looking forward to participating in the annual Sports Camp at Totara Springs, while others will enjoy a week of hands-on and digital creativity. Technology is playing an increasingly important role in our learning, and we enjoy exploring 3D printing, coding, electronics and animation. Having eager and engaged students makes being part of the Tīwai Learning Area a joy. It's also a privilege to walk and work with young people as they come to grips with who God has made them to be – Christ-centred, confident, contributing, connected and continually learning young men and women who want to have a huge impact on this world!